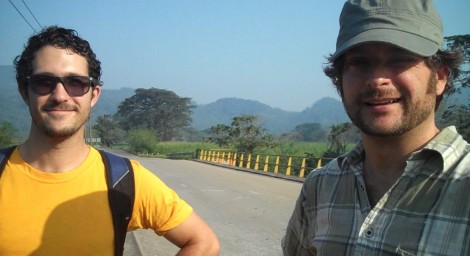 Enrique Laffranconi et moi en repérage dans l'état de Oaxaca au Mexique, en prévision du tournage de Dr. Diaz.             Enrique Laffranconi and I, scouting in Oaxaca Mexico, for Dr. Diaz.
Bientôt plus de nouvelles sur le repérage et la préproduction du film. En attendant, je vous invite à pratiquer votre espagnol en lisant l'article du Sintesis réalisé lors de mon passage à Oaxaca: Un reflejo social de la migración
Soon you will get more infos on the scouting and the pre-production of Dr. Diaz. Meanwhile, I invite you to practice your spanish reading a paper wrote in the Sintesis, during my stay in Oaxaca: Un reflejo social de la migración
Résumé : Le docteur Diaz (45 ans) est un immigrant d'origine colombienne. Il travaille à l'Hôpital général de Montréal. En plus des longues heures passées à l'hôpital, il pratique la médecine à domicile aidant les plus démunis, dont certains sont des immigrants illégaux. Conscient des dangers que cela implique, le Dr. Diaz est, malgré tout, incapable de demeurer les bras croisés. Son histoire de vie et sa vocation pour la médecine le poussent à venir en aide aux nécessiteux. En vérité, ils ont autant besoin de lui qu'il a besoin d'eux.
Summary: Dr Diaz (45 years old) is a Columbian immigrant. He works at Montreal's General Hospital. While working many hours at the hospital, he practices home medicine, helping people in need, some being illegal migrants. Even with the dangers that this practice implicates, Dr Diaz is incapable of standing still. His life story and his vocation for medicine push him to assist people in need. In fact, they need him as much as he needs them.