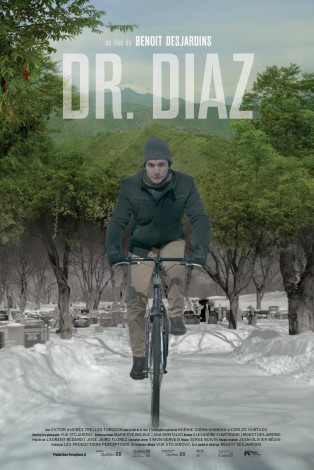 Résumé: Voulant venir en aide aux habitants d'un village minier de Colombie, le Dr. Manuel Diaz s'oppose à la multinationale GreenWorld, et doit fuir pour sauver sa vie. Réfugié au Canada, il travaille à l'Hôpital et il pratique la médecine à domicile aidant les plus démunis, dont certains sont des immigrants illégaux. Conscient des dangers que cela implique, le Dr. Diaz est, malgré tout, incapable de demeurer les bras croisés. Son histoire de vie et sa vocation pour la médecine le poussent à venir en aide aux nécessiteux. En vérité, ils ont autant besoin de lui qu'il a besoin d'eux.
Summary: Wanting to help the inhabitants of a mining village of Colombia, Dr. Manuel Diaz opposes GreenWorld multinational and must flee for his life. He now lives in Canada and works at the Hospital. In addition to the long hours spent in the hospital, he practiced medicine at home helping the poor, some of whom are illegal immigrants.  Aware of the dangers that this entails, Dr. Diaz is, nevertheless, unable to remain idle. His life story and his vocation for medicine push him to help the needy. In truth, they need as much of him that he needs them.
Resumen: Ayudando a los habitantes de un pueblo minero de Latina America, el Dr. Manuel Díaz se opone a la multinacional GreenWorld y debe huir para salvar su vida. Refugiado en Canadá, trabajandó en el Hospital y ejerciendó la medicina en el hogar ayudando inmigrantes ilegales, el Dr. Diaz, trata de rehacer su vida. Conscientes de los peligros que implica su practica, el Dr. Díaz, no puede permanecer inactivo. Su historia de vida y su vocación por la medicina crecen para ayudar a los necesitados. En verdad, necesitan tanto de él que él los necesita.
V.O. FRANÇAISE ET ESPAGNOL
Canada (QUÉBEC) | 2017 | 27 MIN
Mettant en vedette | Featuring:
Victor Andrés Trelles Turgeon, Noémie Godin Vigneau & Carlos Hurtado
FRENCH AND SPANISH WITH ENGLISH SUBTITLES
Featuring: Victor Andrés Trelles Turgeon, Noémie Godin Vigneau & Carlos Hurtado
FRANCÉS Y ESPAÑOL CON SUBTITULOS EN ESPAÑOL
Sélection officielle / Official selection